Satu board mikrokontroler yang sudah dilengkapi dengan "port USB". Jadi sudah ada Serial to USB converter-nya.
Gak perlu repot – repot jika mau dipakai untuk interfacing dengan computer/laptop. Tinggal colokkan aja ke port USB computer.  Dilengkapi LCD display ukuran 16×2, tiga port ekspansi (PA, PB, PD), sehingga mempermudah pekerjaan anda membuat alat dengan mikrokontroler. Cocok juga dipakai belajar mikrokontroler.
Spesifikasi :
Mikrokontroler ATmega8535/16 (tinggal pilih)
USB to serial converter
LCD 2×16
3×10 Port ekspansi : PORTA, PORTB, PORTD
Crystal 16 MHz
2 push button (dapat digunakan sebagai INT0 dan INT1)
Power Supply 5 Vdc (dapat juga langsung dari port USB komputer)
PCB fiber
Konektor untuk download program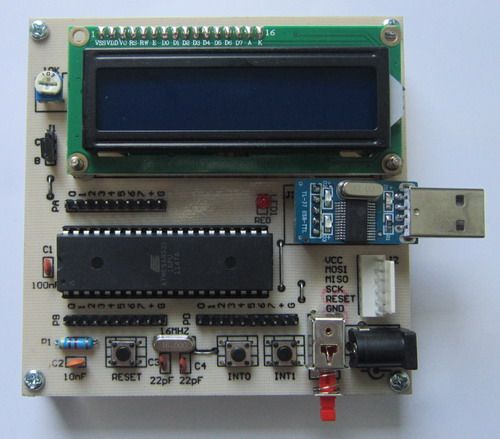 Paket Penjualan :
1 modul Desymega wUSB
1 CD berisi manual Desymega wUSB, Software Compiler BASCOM & CodeVisionAVR, Contoh program aplikasi dengan BASCOM-AVR dan CodeVisionAVR, Datasheet mikrokontroler.
Bonus : 99 Aplikasi Mikrokontroler
Harganya juga cukup terjangkau, Rp 265.000,-
Segera hubungi kami ya, kalau mau beli or tanya2 dulu juga boleh….